Main applications
• Used in the process of manufacturing and transporting foods
• Used in the process of manufacturing and transporting rubber and resin products
• Cut sheets
Operating temperature limit
Structure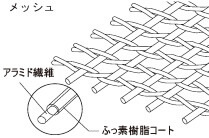 Characteristics
• The mesh structure shows excellent aeration property especially for vapor.
• Has an outstanding water vapor resistance and has excellent resistance to fatigue from bending.
• The surface of the belt has excellent heat resistance, and anti-adhesion qualities.
• Meets the 20th notification of the Food hygiene law by the Ministry of Health, Labor and Welfare.
Typical dimensions and properties
 
Product code
General thickness (mm)
Maximum width (mm)
Maximum length (m)
Weight (g/m2)
Tensile strength (N/cm)
Volume resistivity (Ω-cm)
Surface resistivity (Ω)
Vertical
Horizontal
Natural / Mesh
BAF-410-30
1.100
2100
100
415
1100
1200
—
—
BAF-410-31
—
1400
80
550
1810
1930
*Please consult us for details on belt specifications.
*Values shown in this table represent measurements and do not constitute guaranteed values.