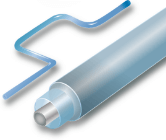 These products are made by molding CHUKOH FLO™ fluororesin tube PTFE/PFA into thin-walled tubes. From straight tubes to tubes processed in various ways, we cater to customer needs by leveraging our wide-ranging technical capabilities and a track record that extends back many years.
Characteristics

• Exhibits excellent heat resistance.
• Also features excellent non-stick properties, chemical resistance and electric insulation.
• PTFE tubes also support the production of colored tubes.
• We can also process the tubes in various ways including flared processing, three-dimensional processing, spiral shapes and independent bellow shapes.
• Heat shrinkable tubes able to impart fluororesin properties can also be manufactured by covering and heat shrinking the tubes.

Main applications

Chemical plants / semiconductor manufacturing equipment and devices / food manufacturing equipment and devices / laboratory instruments / automobile parts / transfer tubes for chemicals, fuels, oils and steam / insulating coatings

Chemical resistance table of fluororesin

Please view the fluororesin chemical resistance table as a PDF.