Main applications
• Used in the process of manufacturing and transporting foods
• Used in the process of manufacturing and transporting rubber and resin products
• Cut sheets
Operating temperature limit
Structure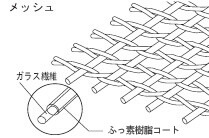 Characteristics
• The surface of the belt has excellent heat resistance, anti-adhesion qualities, release property, and chemical resistivity.
• Excellent dimensional stability.
• Meets the 20th notification of the Food hygiene law by the Ministry of Health, Labor and Welfare.
• The belts can be used in microwaves, far-infrared ray, or under UV environments.
Typical dimensions and properties
 
Product code
General thickness (mm)
Maximum width (mm)
Maximum length (m)
Weight (g/m2)
Tensile strength (N/cm)
Volume resistivity (Ω-cm)
Surface resistivity (Ω)
Vertical
Horizontal
Natural / Mesh
BGF-410-18
0.550
1800
100
485
520
740
—
—
BGF-410-20
0.750
2800
630
840
570
BGF-410-30
0.950
2000
470
350
440
*Please consult us for details on belt specifications.
*Values shown in this table represent measurements and do not constitute guaranteed values.