Overview
Adhesive tape with a fluoroplastic impregnated glass fabric as the base material and applied a silicone adhesive on one side. It is the product that is improved heat resistance significantly than that of AGF-100.
Main applications
• Heat seal machine
• Vacuum packaging machine separator
• Insulating tape
Operating temperature limit
Structure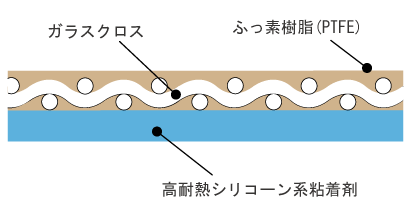 Characteristics
• It has high heat resistance and can be used up to 250°C.
• The surface of the tape has excellent anti-adhesion qualities as well as release property, sliding property, chemical resistivity, and water-repellent property.
• Excellent heat resistance, electric insulation and dimensional stability.
Typical dimensions
Total thickness
(mm)
Width (mm)
Length
(m)
Standard
0.13
13, 19, 25, 38, 50, 100, 150, 200, 250 300,400
10
0.15
0.18
0.30
*Please consult us separately for the dimensions other than above.
Typical properties
Product code
Total thickness
(mm)
Adhesion
180° peel test
(N/25mm)
Tensile strength
(N/25mm)
Breakdown voltage
(kV)
Maximum service temperature
(°C)
AGF-100A
0.13
10
360
6
250
*Values shown in this table represent measurements and do not constitute guaranteed values.