Main applications
• Used in the process of manufacturing and transporting foods
• Used in the process of manufacturing and transporting rubber and resin products
• Cut sheets
Operating temperature limit
-20℃ to +180℃
*It changes depending on the gum substrate.
Structure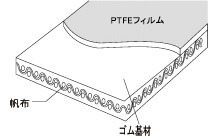 Characteristics
• The surface of these belts have excellent anti-adhesion qualities, release property, and chemical resistance.
• Even the PTFE film itself has the creamy white color, it would not bother the color tone of rubber substrate.
• Meets the 20th notification of the Food hygiene law by the Ministry of Health, Labor and Welfare.
• The composition of color tones and materials can be selected from the wide range of rubber substrates.
Typical dimensions and properties
Product code
Thickness (mm)
Maximum width (mm)
Maximum length (m)
Weight (g/m2)
Thickness widest
Surface material (PTFE film)
BRT-229-4
1.2
0.100
400
20
1600
BRT-249-4
1.9
900
2500
BRT-329-1
1.0
0.025
250
1200
BRT-337-4
1.4
0.100
600
1900
BRT-347-4-R14
1.7
900
2200
BRT-73TS-4-R18
2200
*Please consult us for details on belt specifications.
*Values shown in this table represent measurements and do not constitute guaranteed values.
*CHUKOH CHEMICAL INDUSTRIES, LTD basically ships endless belts. Discuss separately if you want to carry out the endless belt processing on site.