Main applications
• Used in the process of manufacturing pizza crusts and hamburger patties, easy to remove from molds
• Caramel material dispensing
Operating temperature limit
Structure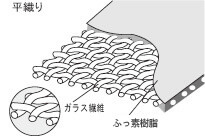 Characteristics
• The surface of the belt has excellent anti permeability, less detachability, and release properties.
• Since it can inhibit the permeance of oils, excellent for manufacturing and transporting oil contained foods.
• Meets the 20th notification of the Food hygiene law by the Ministry of Health, Labor and Welfare.
Typical dimensions and properties
 
Product code
General thickness (mm)
Maximum width (mm)
Maximum length (m)
Weight (g/m2)
Tensile strength (N/cm)
Volume resistivity (Ω-cm)
Surface resistivity (Ω)
Vertical
Horizontal
Super belt
BHGF-500-6
0.130
1000
100
200
310
230
1015
1014
BHGF-500-10
0.220
410
480
430
*Please consult us for details on belt specifications.
*Values shown in this table represent measurements and do not constitute guaranteed values.