PTFE thick porous tube TEF-110
Overview
This product is a  PTFE thick porous tube. By giving a porous structure to PTFE by expansion, it has excellent flexibility and heat insulating characteristics. We can manufacture in a complex shape and split processing is also available.
Main applications
• chemical protection
• Heat insulation
• Piping protection
Characteristics
• It has excellent heat insulating characteristics.
• It is also excellent in chemical resistance and dimensional stability.
• It has excellent flexibility and can handle complex shapes.
• We can also manufacture multilumen products.
Heat insulating property
• The photograph showing the thermal insulation effect of the product by thermography.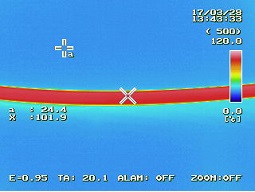 [Not installed]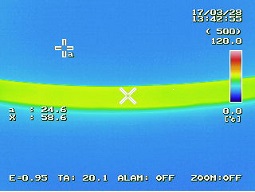 [Installed]
Typical dimensions
Inner diameter(Ø)×Outer diameter(Ø)
(mm)
Inner diameter [mm]
(tolerance)
Outer diameter
(mm)
Wall thickness [mm]
(tolerance)
Length [mm]
(tolerance)
Porosity [%]
(tolerance)
10.0 × 17.0
-0.7/+1.0
17
3.5(-0.5/+0.4)
500(0/+100)
80(±10)
13.7 × 20.7
-0.7/+1.0
20.7
20.0 × 27.0
-0.7/+1.0
27
26.4 × 33.4
-0.7/+1.0
33.4
*Values shown in this table represent measurements and do not constitute guaranteed values.
*There is no outer diameter tolerance.