Overview
This porous tube constitutes of 100% PTFE.
Main applications
• Oxygen sensor
• Gas bent of ECU and head lights
• Cable protection
Characteristics
• It has waterproof and water repellent performance while maintaining air permeability.
• It is also excellent in heat insulating characteristics,flexibility,lowest friction,weather resistance and chemical resistance.
• We can also manufacture multilumen products.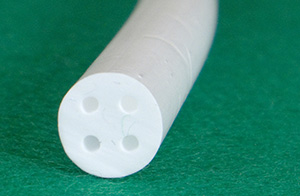 Typical dimensions
Inner diameter (Ø)
Outer diameter (Ø)
Length (m)
1
2
10
2
3
3
4
* Values shown in this table represent measurements and do not constitute guaranteed values.
* Air permeability is measured by a JIS P8117 compliant Gurley air permeability tester.
* We also offer some sizes other than those described above. Please consult us separately.